Goal, progress & history
It's quite simple: we aim to restore ecological health to Te Motu Kairangi, the Miramar Peninsula.
More specifically, we'd like to see every household on the peninsula include 25 % or more of local native plants. We practises eco-sourcing to maintain the distinctiveness of local flora.
By boosting rare plant life and controlling introduced mammalians we can bring nature in to our urban community, raising property values and fostering a sense of identity and well-being.
As well as getting our hands dirty we inspire, enable and support local residents like you - because together we can truly transform our peninsula.
Why Miramar?
The Miramar community is a special one, where many people are connected to each other in a neighbourly way. The unique environment of natural scenery, beaches, world class cafes and restaurants and some of the best film makers in the world has attracted a diversity of people from around the world to Miramar. The beaches of the peninsula are a stroll away, and the bush reserves of Miramar provide a natural sanctuary from the city – while still offering the best views of the coolest little capital.
The sea and the airport form effective barriers around the Miramar Peninsula so, once a pest is removed, reinvasion is limited. This means our peninsula could become a beautiful, safe ecological island.
The peninsula is a wildlife stopover on a natural corridor running from the Rimutaka Ranges and East Harbour Regional Park, over to Matiu/Somes Island and further west to the Botanic Gardens, Zealandia: The Karori Wildlife Sanctuary and Otari-Wilton's Bush.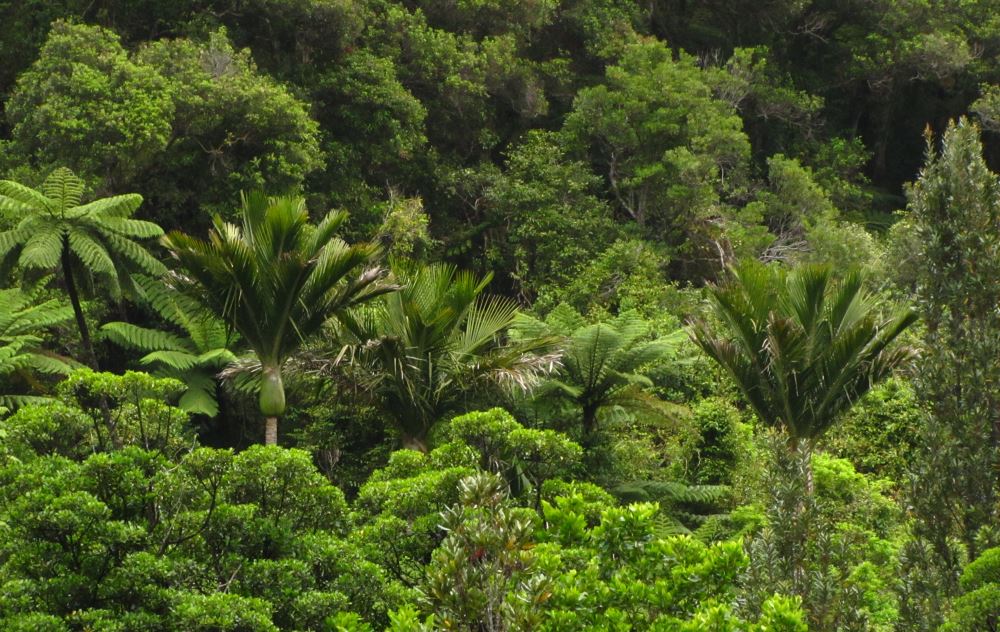 At 900 hectares, 6.5 km long and 2.5 km wide, private residential and commercial properties occupy about 50% of the Miramar Peninsula, while roughly 17% covers protected reserves as well as recreational parks. This does not include airways land and the 78 hectare northern area sometimes known as Watts Peninsula, which covers farmland, regenerating bush and the old defence land of the New Zealand Defence Force.
Miramar resident Joakim Liman heads Te Motu Kairangi - Miramar Ecological Restoration. He is an award-winning eco-restoration volunteer with experience working for the Department of Conservation, Zealandia and Wellington Zoo, Papa taiao Earthcare and currently works for Predator Free Wellington.. Currently, around 20 key volunteers and many more locals spend their free time planting, weeding, trapping and engage in community engagment as part of the project. Most volunteers are aged 20 to 50. Many are ecology students; others are simply passionate about bringing the birdsong back to their corner of New Zealand.
We give regular talks and presentations and have good relationships with WCC, local groups and businesses such as Miramar Enterprise, the Wellington branch of Forest & Bird, Places for Penguins, Kereru discovery Predator Free Miramar, Predator Free Wellington and the local mountainbike group. The Miramar Track project..
Working with children is of great importance to us. Several local schools currently help Te Motu Kairangi with our restoration work and community engagment and we hope to add more in the future. During presentations to teachers and kids we discuss the peninsula's unnatural history, its flora and fauna, how these disappeared and how they can be restored. We also bring kids and teachers in to the bush to experience it first hand by feeling, seeing, hearing and smelling it. Advice for planting in school yards has also been given, including planting native species as well as building nest boxes for native birds, such as moreporks, weta hotels and making lizard gardens for skinks and geckos.
Over 24 000 eco-sourced trees, shrubs, and enrichment species have been planted ( as January 2023 ) across the peninsula in suitable locations. Many were locally extinct but are now flourishing and providing food and shelter for native wildlife.
Thanks to Greater Wellington Regional Council possums have been removed from the peninsula. Across the motu now, an increasing numbers of wildlife including skinks, geckos and a wide range of bird species such as little blue penguins, karearea and morepork are thriving, thanks to the work of the Backyard trapping group Predator free Miramar, with its vast number of backyard trappers and the skilled team of Predator Free Wellington who have caught an immense number of rats, weasels, mice and hedgehogs in the past years with its full scale removal of introduced mammalian predators from the peninsula.
The Miramar Peninsula was once an island teaming with life. During the time of early Polynesian settlement it acquired the name Te Motu Kairangi, meaning "Precious Island".
Bays and gullies supported dense groves of shrubs and trees such as miro, totara, rimu, tawa and flowering rata. Pigeonwood covered most of the ridges and supplejack filled the deeper gullies with a tangle of vegetation.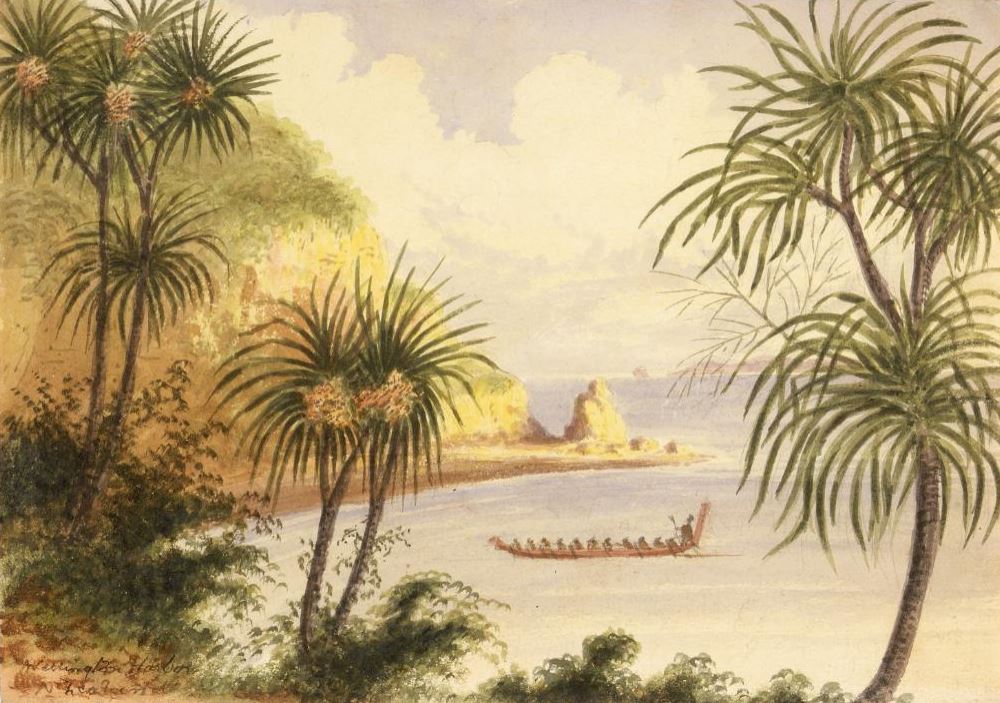 The bush was enlivened by the call and movements of native birds: kereru, tui, bellbirds, kakariki, kaka and now-extinct species such as piopio and huia feasting on the berry-bearing trees. Flightless moa browsed in the undergrowth or on shrubs along the coastline while tuatara sunbathed in clearings and openings in the bush. The only land mammals were bats.
A few streams ran down to the sea where fish were abundant. A flax and raupo swamp with creeks and lagoons supported wetland birds. The coastline was busy with seals, penguins and nesting seabirds, while the nesting grounds of Australasian gannets covered the south coast hills.
An uprising and a lake
Around 1460 AD a massive earthquake closed the channel (Te Awa-a-Taia) which had separated the island from the mainland. Sand drift and sediments started to form low ridges, bars and dunes, converting the island to a peninsula.
After the uplift the previous horseshoe-shaped island, with its forested bays and gullies, suddenly had several low-lying flat areas. Sand drift from nearby dunes, together with water from streams, became confined until an 86 hectare lake (or freshwater lagoon) was created. The lake, known by various names over time including Te Roto Kura, Para Lake and Burnham Water, is now the Miramar shops area, with Para Street marking the eastern shore. The new lake drowned low-lying forest - large stumps and logs of kahikatea and pukatea were later discovered. Areas between ridges and dunes became water-logged swamps, thick with peat and soft vegetable matter.
Drastic changes
At the time of European arrival most of the forest and animals on the peninsula had gone. The forest had been cleared with fire to create gardens. Moa were extinct, their eggs and skeletal remains left in the swamp, dunes and Maori ovens.
By 1840 most of the peninsula was covered in thick, low vegetation of hardy ferns mixed with flax, toetoe and small scrub such as tutu, hebe, matagouri, muehlenbeckia and a few scattered trees. Patches of bush in a few gullies at the northern end of the lake remained, and those remnants were still often visited by kereru and kaka.
Most of the surrounding bush and vegetation was burned down by settlers and grazed by their cattle and sheep. Very few bush-filled gullies survived. Surface sowing with English grasses overtook the common ferns and shrubs covering the hills
Around 1846 landowner James Coutts Crawford drained the lake by constructing a tunnel to Evans Bay. After the tunnel was finished, drains were cut through the flax swamps.
By 1872 there were still several forest species growing such as rewarewa, kohekohe, hinau and ramarama, though confined to a few gullies in the north. Ferns where few, no doubt most had disappeared with the bush that gave them shelter. All podocarps, such as totara, had been cut down for building purposes although there is some suggestion that a small area of bush, containing totara and rimu, grew on the Worser Bay face of Seatoun heights.
With settlers came weeds and animal pests: possums, rats, stoats, hedgehogs and cats.
The diversity of native plants on the peninsula was severely depleted. In 1928 all of the remaining sand dunes were levelled to build an airfield (now Wellington International Airport). Many streams were piped. The last of the remaining wetland disappeared from the peninsula in the 1970s.
In 2002 the Miramar Peninsula was heavily infested with possums and bereft of bird life.
What little remains
95% of pre-settlement vegetation in the Wellington region was cleared of native forest by 1900 and the bush is now mostly secondary growth. Several species of flora are now only known historically and are extinct from the area.
Since pest control measures were intensified, tui have successfully resumed breeding on the peninsula in 2004, marking the first instance of tui breeding in many decades. While stoats, weasels, and most rats have been eradicated, it is unfortunate that hedgehogs and mice still remain common. Alongside a population of feral cats, these creatures pose a significant threat to the survival of our peninsula's wildlife.
There are several protected reserves comprised of regenerating bush, boasting remarkable flora, although only fragments of the pre-European bush remain. Te Motu Kairangi volunteers have been actively involved in planting efforts within three of the northern reserves, and they are now extending their efforts to the southern regions of the peninsula.
Maupuia Reserve / Centennial Park

The largest reserve on the peninsula, spanning 23.6 hectares, is Maupuia Reserve, also known as Centennial Park. This expansive area is predominantly characterized by mahoe, manuka and five finger trees, accompanied by an understory of kawakawa and hangehange. Throughout the reserve, you'll come across several small streams that ebb and flow depending on the season, with only one stream maintaining a constant flow year-round. At the base of the Conviction Track one of several tracks, there is a significant cluster of Tasmanian blackwood trees. While this species has the potential to be invasive, its current rate of spread appears to be relatively slow. The reserve is also home to a few other noteworthy native species, albeit in low numbers, including kidney fern, crown fern, kiekie, supplejack, kamahi, tree fuchsia, wharangi, ramarama, and a solitary kohekohe tree. Regrettably, the invasive climbing asparagus weed is quite prevalent in the area.
Scorching Bay Reserve
Adjacent to Scorching Bay is a seven-hectare reserve characterized by varying terrain, including steep sections and occasionally waterlogged areas. Within this reserve, you will find the only known significant grouping of kohekohe trees, comprising several trees, two of which are quite large. Additionally, there are a few tree fuchsia, as well as sizable specimens of hebe, native broom species, wharangi, akeake, swamp fern, and libertia. It is possible that the original akeake trees in this area were introduced by early Maori settlers. The regenerating bush primarily consists of mahoe and five finger trees, while substantial portions of the reserve are occupied by non-native species such as pohutukawa, karaka, karo, various types of eucalypts, and radiata pine. Unfortunately, the highly invasive banana passionfruit weed is also prevalent throughout the reserve.
Overton Park

The smallest reserve, measuring only 0.7 hectares, is Overton Park. Despite its size, it boasts some of the largest native trees on the peninsula. The park's steep terrain is home to a remarkable collection of native species. Among them, the most prominent are non-local karaka trees, which may be the largest of their kind on the entire peninsula, as well as karo trees. Local native trees such as mahoe, five finger, and kawakawa also thrive in the area. If you look down from the road below, you'll spot the largest known titoki tree on the peninsula, along with the sole large hinau tree in the vicinity. Additionally, smaller titoki trees can be found individually scattered around Karaka Bay. Accessing the steep slopes can be challenging, but it is necessary to manage the dominant pest plant species, including old man's beard, banana passionfruit, and morning glory.
Carter Park
Along the eastern coast of the peninsula and descending the steep slopes from Maupuia, Carter Park is predominantly characterized by regenerating bush and scrub, featuring a mix of native plants, gorse, and broom. It also encompasses pockets of damp bush that showcase notable flora and ferns. Interestingly, some of the very few Tutu plants on the peninsula can be found here.
A newly constructed track now provides access from the northern side of the Maupuia dog park, leading down to Shelly Bay Road. This path guides you through areas of scrubby habitat, featuring a variety of eucalyptus and other non-native trees. As you venture further down, the landscape transitions to mahoe-dominated bush with a fairy village along side, Several native trees such as titoki, kohekohe, wineberry and cook strait kowhai has been planted here.